ISTANBUL WITH DATA FROM 2019
In domestic and international comparisons, with its resilient economy, Istanbul has always been a Pioneer, particularly in terms of its market size and the macroeconomic, financial indicators. The city has a tremendous competitive advantage.
Istanbul's economy accounts for 31% of Turkey's GDP. Istanbul contributes to 60% of Turkey's foreign trade, 58% of the country's overall commercial deposits, and 47% of tax revenues.
With respect to the financial and macroeconomic indicators, the city is well ahead of other cities.
Compared to Turkey's average, Istanbul's economy faces less recession problems. (Turkish Statistical Institute)
Istanbul is a high power engine that provides 31% of Turkey's GDP, valued $257 billion:
By the end of 2018, %13 billion 163 million inflow of Foreign Direct Investment was received by Turkey, most of this amount was received by Istanbul.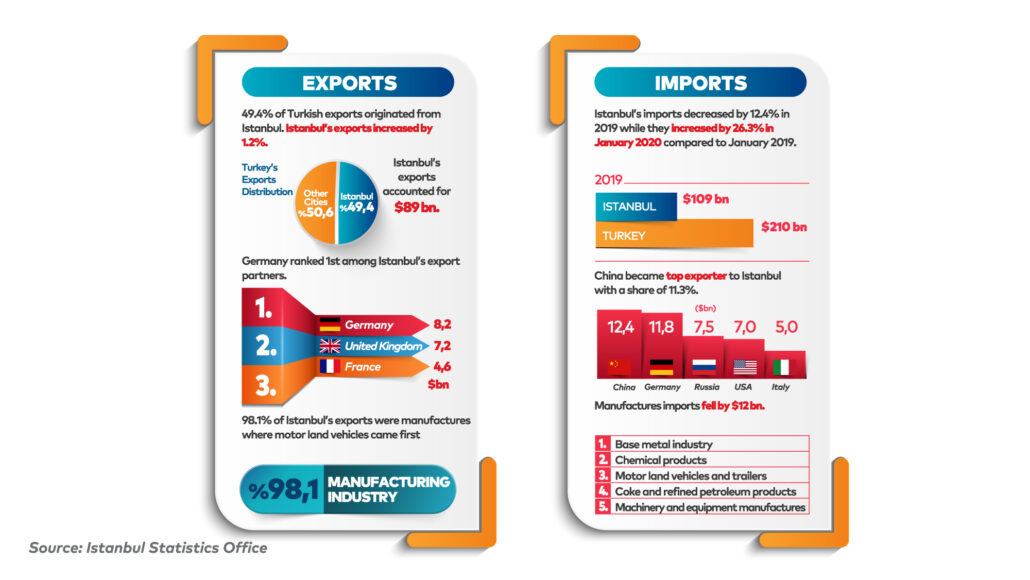 According to 2019 data,  Istanbul's share in Turkey's export volume of %172 billion was %86 billion while the city's share of imports amounted to 50%, valued at  $106 billion within Turkey's total import volume of  $203 billion.
With approximately TRY72 billion, Istanbul has been the city to receive the highest level of public investments in 2002-2018.
As of 2019, with a 40% ratio, 147 out of the 454 Shopping Malls across Turkey were located in Istanbul.
With 933 projects, the amount of public investments in 2019 was TRY9 billion 557 million.
Istanbul ranked 53rd in the Global Financial Centers (GFCI).
38% of Turkey's corporate taxpayers are in Istanbul.
37% of Turkey's industrial production is achieved in Istanbul.
Istanbul's share within Turkey's industrial sector's added-value is 41,6%.
Twenty thousand industrial enterprises are active in Istanbul.
ISTANBUL MEANS;
Strategic Position

A Strong Economy

A Center of Regional Transport

A Rapidly Developing Internal Market

A Developing and Expanding Infrastructure

A Powerful and Innovative Private Sector

Advantageous Investment Zones

An Incentivized Investment Environment

Growing R&D and Entrepreneurship

Innovation

A Competitive Tax System

Qualified and Cost-Efficient Labour

International Fair and Congress Centers

International Airports and Seaports.