Mayor İmamoğlu: "Our first potential collaboration will be on the İncirli-Beylikdüzü metro line project"
Istanbul Mayor Ekrem İmamoğlu signed a memorandum of understanding (MoU) in a virtual ceremony on May 3rd with the President of the European Bank of Reconstruction and Development (EBRD), Odile Renaud Basso. The MoU will formalize Istanbul's participation in the EBRD's flagship "Green Cities" urban sustainability program.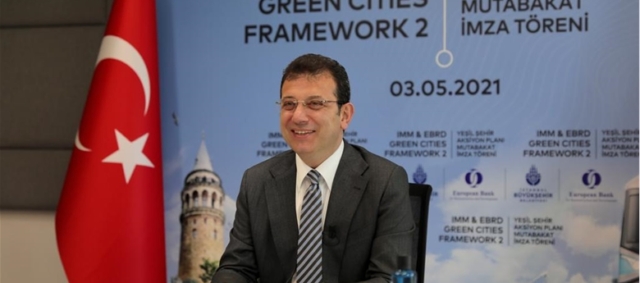 In her opening remarks, the EBRD President welcomed Istanbul into the Green Cities initiative and said: "The EBRD Green Cities program offers a pioneering vision of how we can reimagine and reshape the cities we live in, and build a better and more sustainable future for us all. The EBRD is already financing two metro lines that keep Istanbul on the move, and we are ready to fund more improvements to public transport and other areas of city life."
"Istanbul stands to gain enormously from the investment, policy advice, and expertise that come with joining this program. Just as the program itself will also benefit from welcoming such a historic and truly impressive city," she added.
Mayor İmamoğlu said: "One of my main promises prior to becoming new mayor was a "Green Istanbul" for everyone. Today I announce with great joy that we have taken an important step towards this goal through an agreement between the Istanbul Metropolitan Municipality (IMM) and the EBRD. Following our sister cities Ankara and İzmir, we will ve the 47th city to take part in the Green Cities Urban Sustainability Program."
"Our first potential collaboration will be the İncirli-Sefaköy-TÜYAP metro line, a vital project for the future of our city. Istanbul is a city with great potential, and I have no doubt that we will accomplish very successful milestones. I would like to thank EBRD President Ms. Odile Renaud Basso and her colleagues very much on behalf of Istanbul and the municipality." the Mayor added.
Istanbul is the third Turkish city after İzmir and the capital Ankara to join EBRD Green Cities and has become the program's 47th member overall.
The 25.5-kilometer long İncirli-Sefaköy-TÜYAP metro line will connect the east and the west of the city, including Beylikdüzü, a populous residential district.