IMM has been included in the 'Fortune 500 TURKEY' list with the ten subsidiary companies within the municipality's body. The list enables companies to evaluate their performances based on specific criteria and identify their sector position.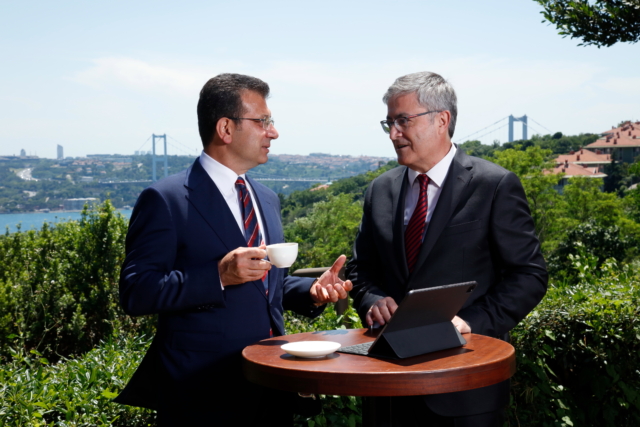 Istanbul Metropolitan Municipality  (IMM) remained on the 'Fortune 500 TURKEY' list last year with six subsidiary companies. This year, boosting its performance, ten subsidiary companies of IMM hit the list. According to the assessment based on 2020's net sales figures: IGDAS took the 35th position, ISPER ranked 25st, ISTAC 305th, METRO ISTANBUL 314th, KIPTAS 320th, ISTGUVEN 351st, ISFALT 368th, AGAC Inc. 384th, ISTON 472nd and ISTANBUL HALK EKMEK Inc. ranked as the 477th company in the list.
Catching on with the City through Various Sectors 
IMM has been creating value through its subsidiary companies active in various areas meanwhile offering remarkable contributions to the city's social and economic development with employment opportunities. IMM's Subsidiary Companies active in numerous sectors ranging from transportation to energy, housing, to environmental investments have been developing while leading their sectors.
Attracting the Investments through Istanbul's Reliability
Commenting on IMM subsidiaries' success, Chairman of the IMM Istanbul Investment Agency (IIA) Turgut Tuncay Önbilgin said:
"Maintaining its unique attraction, Istanbul hosts over 40 thousand companies, including the ones with foreign capital, that provides 31% of Turkey's economy. The power of IMM and its subsidiaries and Istanbul's presence as a global metropolis render the city more attractive for investors. Our transparent and conciliatory approach as the new administration started to receive positive feedback from the international circles. In 2020, we actualized the issuance of US$ 580 million worth of Eurobonds, and this was Turkey's highest municipal bond issuance in the last 33 years. The demand to IMM's Eurobonds has been the concrete and critical indicator of the global markets' trust to IMM."
Pointing to the underground railway constructions in progress, Önbilgin said, "As of 2021, ten different rail system constructions are being carried out in Istanbul. The city is at the top of the list of 'cities in the world with the highest number of ongoing rail system construction'. These constructions will contribute to our country's economic growth, creating added value, along with our ongoing investments. The ones who invest in Istanbul now will be winning."
 IMM Companies at the Fortune 500 TURKEY
IGDAS
IGDAS provides natural gas services to Istanbulites in a reliable, sustainable and innovative approach that adds value to the environment and city's inhabitants. IGDAS ranked as the 35th company in Fortune 500 TURKEY list, based on its net sales of TRY10 billion and 439 million.
ISPER Inc.
Providing qualified workforce support with over 15 thousand employees active in field activities to the Istanbul Metropolitan Municipality, its affiliates and subsidiaries, ISPER took the 251st position in the list with its net sales of TRY 1 billion and 471 million.
ISTAC Inc.
Performing with a vision of an international organization that generates authentic solutions to environmental management with an integrated approach, ISTAC ranked as the 305th company based on the corporation's net sales of TRY1 billion and 192 million.
METRO ISTANBUL Inc.
As a result of this year's evaluation of companies, thanks to its net sales of TRY1 billion and 147 million, METRO ISTANBUL Inc. entered Fortune's list through the 314th rank.
KIPTAS
Creating liveable and reliable neighbourhoods around Istanbul's many zones, KIPTAS ranked as the 320th company in the list with its net sales of TRY 1 billion and 134 million.
ISTGUVEN Inc.
Delivering high-end security services with leading experts to maintain the safety of the citizens 24/7 in the best and most effective manner around Istanbul, ISTGUVEN took the 351st position in the list by achieving TRY1 billion and 4 million worth net sales.
ISFALT Inc.
Another IMM subsidiary ISFALT Inc. took the 368th position in Fortune's list by accomplishing TRY962 million net sales. The company delivers asphalt production and implementation, R&D, laboratory and recycling services.
AGAC Inc.
AGAC Inc. carries out services regarding Istanbul's green zones. The company is in charge of growing trees and ornamental plants, conducting scientific research in this area, building and implementing landscape design projects, producing landscape products and leading such products' sales and services. AGAC Inc. entered Fortune's list of 500 top Turkish companies and ranked 384th with net sales amounting to TRY912 million.
ISTON Inc.
Offering high-quality solutions to fulfil Istanbul's infrastructure and superstructure requirements., ISTON Inc. entered Fortune's list from the 472nd rank upon its achievement of TRY710 million worth net sales. 
ISTANBUL HALK EKMEK Inc.
In charge of manufacturing, distributing and maintaining the necessary units for distributing regular, affordable, healthy and high-quality all types of bread, flour and bakery products and conducting the production of mainly regular bread and other bakery goods, Halk Ekmek Inc. ranked 477th by reaching net sales worth TRY695 million.