Eleven Metropolitan Mayors and eleven Mayors of provincial municipalities of CHP gathered at the Sustainable Water Policies in Cities Summit held in Izmir. These 22 Mayors in charge of the cities hosting 65% of Turkey's population signed the "Water Manifest" that featured ten articles.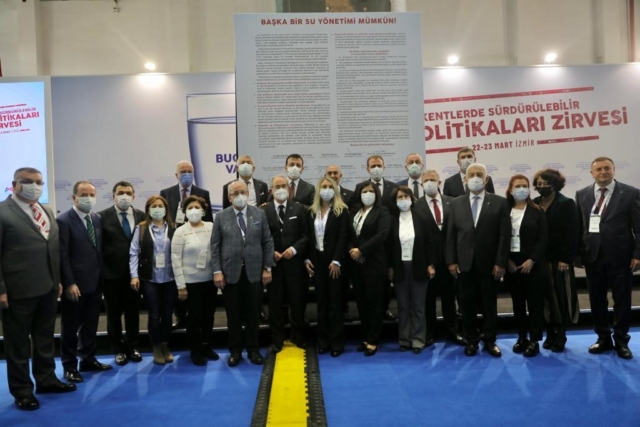 Mayors attended the "Sustainable Water Policies in Cities Summit" held at the "İzmir International Fair" in Gaziemir. Gathering at the session titled "Mayors Summit – Leadership and Policies in Water Management: An Alternative Water Management is Possible" moderated by Tunç Soyer, Mayor of Izmir Metropolitan Municipality, pointed out the issue of drought that threatened the globe. Mayors of Metropolitan Municipalities relayed the problems related to drought in their regions and mentioned their solution methods.
"WE ARE OBLIGED TO BUILD A JOINT WILL IN WATER ISSUES"
Ekrem İmamoğlu, Mayor of İstanbul Metropolitan Municipality, stated that they gathered to discuss a critical issue in an atmosphere with an ever-changing agenda. İmamoğlu said, "When we take the eleven metropolitan municipalities and our eleven provincial municipalities into consideration, we are representing 65% of our country's current population" and added:
"This issue is a permanent one. We have been going through many problems in our country. We have many issues ranging from economy to politics and healthcare…Though we discuss these issues every day as they constantly challenge us, we can solve them one day. Yet, the issues related to water are entirely different. Water is a question of a process. We are all fully aware that these are problems that cannot be solved instantly. Similar to our capacity to work on and solve other issues, we are obliged to build a joint will regarding the water subject. This is a global problem. Climate change and drought are indeed vital matters. We have been witnessing migration waves based on drought across the world. Within this context, we should avoid any attempts that would destroy our country's water resources particularly, and we should prevent such attempts."
SOYER READING THE MANIFEST
Following the speeches, Soyer read the signed "Water Manifest." The manifest declared by Soyer featured the following statements:
"An alternative water management is possible!"
Water belongs to all of us and all the things. Traces of water remain in our capacity to run and speak, in our thoughts and products, in our laughter and tears, and finally in our gathering today with our determined stance to change the world. Life began and developed in water. All living creatures and objects in the globe are linked through the water. Life cannot exist without water.
A significant part of Turkey falls under the "arid climate geography" category. The danger of drought is the most critical outcome of climate change. According to State Hydraulic Works' data of 2019, 77 percent of our country's water resources are being utilized in agricultural irrigation.  Ten percent is being used in households while the industrial plants employs the rest. This data reveals that the main scope in our struggle against the drought should focus on agricultural irrigation.
Within the framework of such conscientious and scientific responsibility, as the mayors of eleven metropolitan municipalities and eleven provincial municipalities of Turkey, we have gathered here today in İzmir, on the World Water Day, on 22 March 2021. Concerned about climate crisis' worsening results, we aim to suggest an alternative water policy for Turkey and secure our future in these lands for our children and nature.
Achieving five principal changes in water management is essential for success in the fight against drought by reducing the impact of the climate crisis over water resources:
1) Building a participatory water management model: Management of water shall be executed with a brand new and participatory approach which includes all the city and country-scale stakeholders, agricultural organizations, industrialists, domestic users, professional organizations and organizations focusing on nature and the environment.
2) Adopting demand management instead of supply management in all areas of utilization: Instead of the policy based on constantly creating more supply for unplanned utilization demands, economic models where high revenues are achieved through lower water consumption, mainly in agricultural irrigation and industry, should be designed and encouraged.
3) Planning basin-scale water investments: Usage of the water resources, amount of the surface and underground waters to be used and water budget allocation should be based on the basin-scale.  The identified allocation should be monitored, and excessive water utilization beyond the allocated amounts per each sector should be prevented.  The effects of water investments planned for every basin over each other should be measured cumulatively and the investment decisions should be adopted after such basin-scale strategic assessment. Minimum expenditure and maximum outputs should be the basis.
4) Protecting the nature's water cycle: Many species have been endangered, lakes and wetlands dried up and river ecosystems have been harmed due to the interventions on the water cycle since the 1960s. Our country's water utilization targets need to be redefined based on the climate change crisis. Sustainability of the ecological water supplies regarding the underground waters, wetlands and rivers should be taken into consideration in investment plans. Implementations and activities such as construction and mining that lead to the pollution or decrease of the water required by the living creatures and disturb the ecological balance and the water cycle should be prevented.
5) Circular water utilization by the sectors and the ecosystem:  Various sectors and the ecosystem should achieve transfer of the wastewater from agricultural, industrial or domestic utilization after the required treatment process. Rainwater harvesting methods in cities and agricultural areas should be extended, circular solutions for achieving substantial supply, utilization and recycling of water should be encouraged.
The following ten steps shall be achieved immediately in line with the principles mentioned above:
Lack of coordination in water management must be eliminated and conflicts over authorization and responsibilities between the institutions shall be resolved.
A 'Water Law' built upon the understanding of all stakeholders shall be put into effect. Local administrations should be rendered powerful and authorized structures in the planning and implementations regarding the water basins.
Water investments should be made by the water and wastewater master plans that align with the basin-scale integrated plans, and public funding should not be transferred to investments with low economic and ecological feasibility. Local administrations' funds for environmental infrastructure projects should be increased.
The International treaty on climate change, the Paris Agreement signed for an effective fight against the climate crisis should be ratified immediately, efforts over the Draft Law on Climate Change designed for preventing the negative effects of climate change should be intensified.
Drying up of lakes and destruction of Lake Salda, Burdur Lake, Lake Tuz, Seyfe Lake and other wetlands should be terminated. Such wetlands should be restored and their natural water cycles should be protected.
All spatial and expansive pollution sources in water basins should be controlled and effectively inspected by central and local administrations.
Wasting water resources should be prevented by achieving correct product planning in agriculture and adopting water-saving irrigation systems, agricultural irrigation should be decreased by a minimum 50 percent. To that end, heirloom and indigenous livestock with high economic value and low water demands should be encouraged.
Any project based on waste that damages the natural cycle of water, such as the "Concrete Canal" project intended to be built in İstanbul should be cancelled.
Outdated legislation on water and sewage systems should be recomposed; water and sewage authorities should be established in non-metropolitan cities.
As and irreplaceable component of life, water should be acknowledged as a fundamental right, it shall be qualified as an ecological and social value, and water services should be based on public operations.
As Turkey's mayors of 22 municipalities, we now declare that we will be conducting the water management in our cities in line with the principles as mentioned earlier and within the scope of our authorities, tasks and responsibilities. We are determined to execute our activities until we achieve the establishment of the water management identified by this document in our country and altogether shout out: An alternative water management is possible!"
MAYORS SIGNING THE MANIFEST BOARD BEFORE THE CAMERAS:
Metropolitan municipality mayors:
Zeydan Karalar (Adana), Mansur Yavaş (Ankara), Özlem Çerçioğlu (Aydın), Yılmaz Büyükerşen (Eskişehir), Lütfü Savaş (Hatay), Ekrem İmamoğlu (İstanbul), Tunç Soyer (İzmir), Vahap Seçer (Mersin), Osman Gürün (Muğla) ve Kadir Albayrak (Tekirdağ).
Mayors of provincial municipalities:
Ali Orkun Ercengiz (Burdur), Barış Ayhan (Sinop), Demirhan Elçin (Artvin), Faruk Demir (Ardahan),  Mehmet Siyam Kesimoğlu (Kırklareli), Recep Gürkan (Edirne), Selahattin Ekicioğlu (Kırşehir), Semih Şahin (Bilecik), Tanju Özcan (Bolu), Ülgür Gökhan (Çanakkale), Vefa Salman'ın (Yalova).
Mayors signed the manifest panel in front of the cameras.